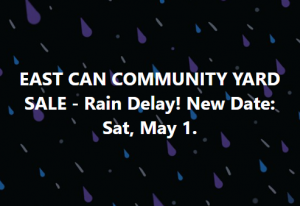 The irony is not lost on me!
My efforts to tie the 2021 Yard Sale to the return of spring sunshine appears to have gone awry.  All details for the Yard Sale remain the same except for the NEW DATE IS SATURDAY, MAY 1.
Volunteers are still needed!  Complete a VOLUNTEER CONTACT FORM and our Volunteer Coordinator, Yvonne, will reach out to you!   Here are some of the ways you can help!
Sorting/Pricing at East Nashville Self-Storage (800 Main St)
Mon, April 26 … 5-8pm
Wed, April 28 … 2-5pm
Th, April 29 … 2-5pm
Yard Sale Set-up and Item Transfer (meet at Eastwood Christian Church)
Friday, April 30 … 3-7pm
Yard Sale Day of Setup and Staffing (Eastwood Christian Church)
Saturday, May 1 – * indicate shifts that need the most help!
*6-8:30am
*8 – 10:30am
10am – 12:30pm
12 – 2:30pm
*2 – 4pm
This year's items are remarkable – everything from furniture and furnishings to electronics and baby stuff!  But, wait until you see the amazing array of clothing and autographed merchandise!   Help us give the dogs and these items a second chance.
For more information, contact info@eastcan.org.